According to the American Pet Products Association, nearly 73 million US households own a pet. Dogs are the leader of the pack living in 46.3 million homes and cats place a proud second inhabiting 38.9 million homes. Before pouncing into pet ownership, Protect Your Bubble pet health insurance recommends doing some important research about choosing the right pet for your particular lifestyle.
Mans best friend and the most popular pet choice in the country can be a wonderful addition to your family – as long as youre ready for it. Dogs require a great deal of time, energy, affection and attention to thrive. A happy pup will return the favor infinitely with unconditional love and loyalty.
Once you've chosen to add a dog to your family, there are many considerations when determining the right breed or mixed breed.
? First, identify what size dog makes sense for your family. Dogs range from the tiniest of Chihuahuas with weights in the single digits to Great Danes and Mastiffs that can weigh up to 200 pounds.
? Next, determine the energy level you would like your dog to have. Bulldogs might make a great choice for someone in a small apartment since they arent an active breed. On the other hand, labs and terriers need plenty of exercise time and space!
? Then, determine your preferred affection level certain breeds are lapdogs while others are more independent. A Bichon Frise would be great for a family that wants a lot of cuddle time while a Miniature Pinscher may not have the patience for cuddling.
? Next, think about socialization and trainability. Certain breeds like Australian Shepherds thrive with complex training while others do best with basic commands.
?Finally, consider other factors like climate, grooming, shedding and maintenance. Longhaired breeds like Poodles require regular grooming while many shorthaired breeds like French Bulldogs only need occasional brushing.
Moving on to the second most popular pet in the country cats. Cats have attitudes, cattitudes as we like to call them, and thats a major part of their charm. Cats have the ability to keep themselves entertained and many household cats are independent. Thats not to say they dont like to play. Most cats love having their humans or other cats around for romping. Indoor cats dont need to be walked outside and are easily trained to use the litter box. If your lifestyle doesnt allow for much outdoor activity, an indoor cat could be a nice choice for you.
Purr-fect considerations when determining a feline friend include activity level, attention, affection, compatibility with other pets and independence preferences. For example, Siamese and Persian cats are known to love affection and attention, while Abyssinians are famous for their playfulness.
No matter what type of dog or cat is chosen, pet insurance is an important step in considering the pet's wellness. Protect Your Bubble offers pet insurance options for dogs and cats to cover vet charges for eligible accidents, illnesses, hereditary conditions, behavioral treatments and alternative therapies. Visit ProtectYourBubble.com for a quick, two-minute quote.
About Protect Your Bubble
Protect Your Bubble is a specialty insurance brand, offering insurance for gadgets, pets and travel – all for todays modern consumer.
Pet – Plans provide up to 90 percent reimbursement for covered vet charges for eligible accidents, illnesses, hereditary conditions and behavioral treatments and alternative therapies. They allow owners to visit any licensed vet in the country. Additionally, annual deductible options start at $ 100, which only need to be met once per plan year.
Travel – Plans provide a variety of coverage for single and multi-trip options including cancellation, interruption, medical/dental, baggage, rental car and much more like 24/7 emergency services including, consult a doctor, roadside assistance, restaurant reservations and even set up tee times through their concierge services.
Gadget – Smartphone and tablet insurance covers loss, theft and water damage and consumers will receive a replacement device in 24 hours. Home gadget warranties provide coverage for mechanical breakdown and accidental damage for laptops, game consoles and cameras as well as mechanical breakdown for appliances, televisions, desktop computers, home theater systems and more.
Headquartered in Atlanta, Protect Your Bubble is available online, via mobile app or phone, allowing consumers to understand, buy and, most importantly, protect what enriches their lives. Find Protect Your Bubble USA on Facebook or Twitter (@PYBUSA) or visit http://www.protectyourbubble.com for more information or to get a two-minute quote today.
Chicago, IL (PRWEB) August 28, 2012
With hurricane Isaac bearing down on the Gulf of Mexico, the Chicago Veterinary Emergency & Specialty Center (CVESC) (http://www.ChicagoPetEmergency.com) reminds pet owners to have a disaster preparedness plan for their pets. While hurricanes are not a threat in the Midwest, tornadoes, floods, fires and blizzards can present a danger to people and their pets.
Having a plan can help protect pets in the event of a disaster, said Jerry Klein, supervising veterinarian for Chicago Veterinary Emergency and Specialty Center. Pet owners should be prepared with up to a week of supplies and an evacuation plan for their pets in the event of an emergency or natural disaster.
The Federal Emergency Management Agency (FEMA), the American Veterinary Medical Association and other pet-focused organizations call for pet owners to have an emergency kit for pets that includes:
In airtight containers, at least three days supply of each pets:

Food
Medicine
Bottled water
Also in an airtight container:

Copies of each pets registration or adoption papers
Medical records including a health certificate
Medications
Photos of the pet and of the pet with its owner to help with identification and to establish ownership
A first aid kit including cotton bandage rolls, bandage tape, scissors, antibiotic ointment; flea and tick prevention; latex gloves; isopropyl alcohol; saline solution and a pet first aid reference book.
Pet owners should also have:

A pet carrier that the pet is familiar with to be used in the event evacuation is necessary
Extra leashes, bowls and a can opener
Pet litter and litter box, newspapers, plastic bags, bleach and other sanitation related items as appropriate
If feasible, some of the pets favorite toys, bedding and treats to help reduce the stress.
In making preparations, pet owners should explore options for where to go if they need to evacuate their home as many emergency shelters do not allow pets, said Dr. Klein.

Be aware of available options for evacuation prior to an emergency, including identifying pet-friendly hotels or motels; boarding facilities; veterinary hospitals; and family or friends that would temporarily board the pet.
Pet owners are encouraged to make plans with friends, neighbors and relatives to evacuate your pets from your home if you are unable to do so. Make certain they know where your pets emergency supply kit is.
Pet owners should be sure to talk with their primary care veterinarian about a microchip and data base registration for their pets, according to Dr. Klein. Even without a disaster, we regularly get calls from pet owners looking for a lost pet that has no identification. A pet with a microchip that is properly enrolled in a recovery database is much more easily reunited with its owner.
Dr. Klein also pointed out that, The emergency kit is a great resource for pet owners that travel with their pets. All of these items are just what is needed whenever your pet is away from your home.
September is National Preparedness Month. People are encouraged to learn about potential hazards and make plans for themselves and for their pets in the event of an emergency or disaster. Proper preparation can help reduce the risk and anxiety for pets and their people.
Media Availability: Chicago Veterinary Emergency and Specialty Center will make every effort to provide credentialed members of the media access to a staff veterinarian for interviews and to our facility to shoot background footage. To arrange an interview or to shoot footage at the facility, please contact Virginia Mann, 312-420-3344 or Virginia(at)VirginiaMann(dot)com
About Chicago Veterinary Emergency and Specialty Center

Chicagos oldest and largest pet emergency center, the Chicago Veterinary Emergency and Specialty Center (CVESC) today provides the most advanced emergency, critical and specialty care available to cats and dogs. Each year, CVESC treats more than 11,000 dogs and cats in its emergency room and thousands more see their veterinary specialists.
Staffed by highly-trained specialists and equipped with the latest technology, Chicago Veterinary Emergency and Specialty Center is always open 24 hours each day, every day of the year. In addition to emergency veterinarians and staff, CVESC has board-certified veterinarians who specialize in cardiology, dentistry, dermatology, internal medicine, neurology, oncology, ophthalmology, radiology and surgery to treat pets with special medical or emergency needs. This state-of-the-art facility includes ultrasound and MRI equipment, specialized surgical suites, a blood bank, specialized oxygen cages, heart monitors and more. CVESC has been providing care for Chicago-area pets when they need it most for more than 30 years.
# # #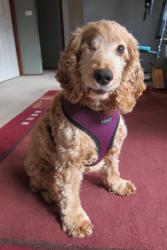 Blind Dog Support today announced the launch of their new website BlindDogSupport.com, a community based support site developed solely for owners of dogs that are blind or visually impaired. The site not only provides a safe haven for owners of blind dogs but also provides relevant information to help owners manage and adapt to their blind dogs condition.
Many people think that when a dog loses its sight it needs to be put to sleep, but nothing could be further from the truth says site owner Paula Carnogoy, whose dog Lucy lost an eye to glaucoma and is blind in the second eye. The reality is that thousands of dogs all over the world live quite happily without their vision and their owners cope very well.
The site has been developed to allow blind dog owners to interact with those in a similar situation and also let them provide regular updates of their dogs condition, upload photos and videos, and to ask questions and comment on the forum.The main goal is to making living with a blind dog easy.
Our goal at BlindDogSupport.com is to develop a community where people with blind or visually impaired dogs can come to when they need questions answered or just a little support during a difficult time. says Wanda Sowden, co-owner of the site. The information on the site will give them everything they need to know to feel empowered and confident to look after their dog. And we will be there to support them.
Members can also share their own story on what they and their dog have experienced and upload them to the site. When I first found out my dog was going blind, the blind dog stories that I found on the internet made all the difference. says Paula. It gave me hope to see that others were coping just fine with their blind dogs. If they could cope, then so could I.
About BlindDogSupport.com: BlindDogSupport.com is dedicated to providing up-to-date information as well as providing a supportive community for owners of blind or visually impaired dogs. Developed by a full-time blogger and owner of a blind dog, the site aims to create awareness of the plight of many blind dogs and at the same time provide an optimistic environment where blind dog owners can meet. For more information visit: http://www.blinddogsupport.com